My wife and I spent the winter in Arizona, primarily in Yuma, way down south bordering on California and Mexico. Desert. Well... is would be if the Colorado River hadn't been turned into a teeny-tiny stream. (Did you know that for the last twelve years, not a single drop of Colorado water has reached the Sea of Cortez?)
So... Yuma is the lettuce capital of America. Or maybe of the world. It seems that the flatness of desert, when properly irrigated, is perfect for growing lettuce. Square mile and square miles of lettuce. Some fields are planted with different kinds of lettuce, so that "mixed bags" are prepared right at the picking stage. Fascinating. Really.
OK... so there's lettuce in the desert. That doesn't mean that there's much in the way of forage for cattle. In fact, there's nothing at all. Zero. Zilch. Cattle would starve in a few days.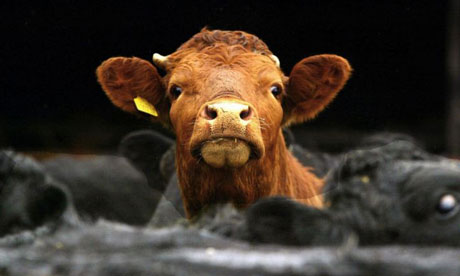 Except... that there are cattle being raised near Yuma. In the middle of the desert. In conditions that should cause every American to swear off beef forever. The animals must have about ten square feet each. The smell permeates the air for miles.
In order to keep the animals alive in such disgustingly unhealthy conditions, they are fed huge quantities of antibiotics.
Then those antibiotics arrive in people's plates. And microbes become immune...
... and the meat industry makes a bundle of money in the meantime...